If You have never been to an Auction before it would be helpful to attend as many as possible to get a flavor of how the process works. All Auctioneers operate differently and independently.
An auction is an efficient way to buy almost anything! Popular auction items include antiques, fine art, automobiles, furniture, vintage items, antique dolls, coins, stamps, jewelry, books, toys, firearms, and collections of all kinds. Our Auctioneers often sell the contents of businesses as well, including equipment, furniture, etc.
If you will be attending an auction for the first time, The auctioneer's staff will be ready to help you and answer any questions you may have.
When you arrive, go to the registration area for a bidding number. You will give your name, address, phone number, and acceptable identification. Please show your bidding number to the auctioneer after each purchase you make.Here are a few helpful tips:
At most auctions, items are sold "as is – where is." Therefore it is important to preview items before the auction and determine quality and condition so you will not be disappointed after buying.
Auction bidding is not something to be afraid of. You will not buy accidentally by scratching your nose; the auctioneer knows when you are bidding seriously. On the other hand, don't wait too long if you want an item – get your bid in early so the auctioneer has the bid before the item is sold.
The record of sale kept by the auctioneer and clerk will be taken as absolute and final in all disputes.
All items are usually to be removed the day of auction.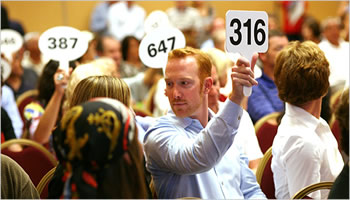 Here are a few types of Auction that our Auctioneers perform:
Real Estate
General personal property
Benefits
Storage
Different types of Auctions include:
Live
Online only
Live with simulcast bidding
Sealed bid
If you still have questions about how auctions work Click Here to contact us to ask your question.